So delighted to finally share We Will No Longer Retreat Into Darkness with you all! Those of you in Toronto are warmly summoned to the release party which will take place one week hence, Friday, May 4, 2018, at Stone Lounge (in the basement of Revival), 783 College Street at Shaw! I've specifically designed this as an early show so those of you who can't stay out late can be there – doors open at 8, the show starts at 9, and I go on at 10:30, no later than 11! What a joy it shall be to glory in the release of this (I dare suggest) wonderful and long-awaited album with you all!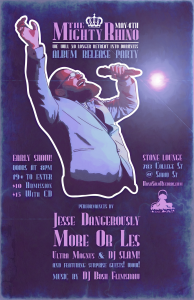 Doors at 8PM, show at 9PM
Cost: $10, or $15 includes CD
9:00 PM – Jesse Dangerously
9:30 PM – More Or Les
10:00PM – Ultra Magnus & DJ SLAM!
10:30PM – The Mighty Rhino
The show will be opened and closed with funky tunes from DJ Bosh Flimshaw.
Facebook Event Page:
https://www.facebook.com/events/232721797471454/
Share