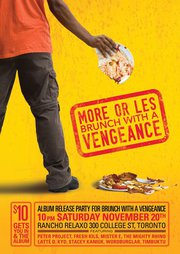 You're invited to celebrate the fourth release / third full length of More Or Les – Brunch With A Vengeance!!!
Rancho Relaxo | 300 College Street
(north-west corner of College and Spadina)
Sat. Nov. 20 | Door: 10:00 pm
$10 gets you in AND a copy of the album!!!
OPENING SETS from none other than:
MISTER E – check his new album: Dusting for Prints – it's amazing:http://itunes.apple.com/ca/album/dusting-for-prints/id399092845
and
THE MIGHTY RHINO – previewing new material at the show!!
GUESTS include:
FRESH KILS – www.myspace.com/freshkills
PETER PROJECT – www.myspace.com/peterproject
LATTÉ D. KYD- http://www.lattedkyd.com/
http://www.facebook.com/group.php?gid=3011400121
STACEY KANIUK – http://www.staceykaniuk.com/
http://www.facebook.com/pages/Stacey-Kaniuk/193324529006
WORDBURGLAR – www.myspace.com/wordburglar
http://www.facebook.com/group.php?gid=2433214334
TIMBUKTU – timbuktu.bandcamp.com/album/stranger-danger
http://www.facebook.com/group.php?gid=2366499854
Share