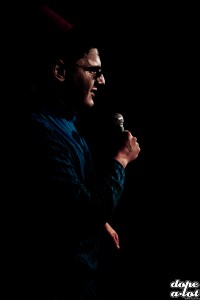 "I'm a legend, y'all know I'm a legend… and after what I saw, I'm here to tell you Rhino is a legend too." -Jeru The Damaja
"I've only ever seen one performer who could compare to him, and that's Supernatural. Next to Supernatural, that dude is the craziest thing I've ever seen. I've never seen anything like him in my life." -Chali 2na (Jurassic 5)
The razzle-dazzlin'est, showstoppin'est star in all of Canadian underground hip-hop returns! Six long years after notching up Toronto Independent Music Award and International Songwriting Competition nominations for his signature song "Company Policy" and winning rave reviews for his debut album, He Whom The Beat Sets Free Is Free Indeed, The Mighty Rhino is back on the scene, ready to rip mics, stomp stages and astonish crowds with his stellar sophomore set, We Will No Longer Retreat Into Darkness!
Called "electric" by Maclean's magazine, "a legend in the making" by Torontoist, and "one of the best things to happen to hip-hop" by Billy Danze of the legendary M.O.P., and co-signed by rap glitterati from Shad and Brother Ali to Jeru The Damaja and Masta Ace, Rhino has partnered with the storied underground institution Hand'Solo Records (Moka Only, Buck 65) to release another album of galvanizing, electrifying, atom-smashing hip-hop – equal parts thoughtful introspection and pure out-and-out buss-ya-head-open bangeration. With a ferocious "What if Busta Rhymes were a preacher?" mic presence and an onstage dynamism that has to be seen to be believed, Rhino is a truly captivating, sui generis artist. One moment he's contemplating "the core realities of the universe" on "Front Row Seat" or gleefully scaling the heights of reverence and blasphemy at once on the staggering "The Royal We"; the next he's recruiting an army of gifted guests to stomp a hole in your ribcage.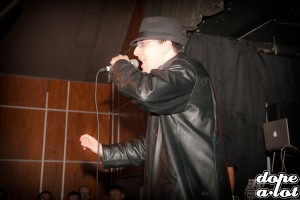 And what a remarakble murderer's row he's assembled for this vital task! Prince Po, of old-school East Coast titans Organized Konfusion, and Toronto's premier avant-gardist, D-Sisive, join Rhino to wreck shop on the mind-crushing lead single "Resplendent". From the West Coast, Myka 9 of Freestyle Fellowship drops by for a taut and clever 16 on "The Shit That Will F—k You Up". Juno-wiinner Adam Bomb (Freedom Writers, Naturally Born Strangers) goes toe-to-toe with an on-fire Rhino on the deadly "Wolves In The Cellar". Illvibe, winner of Season 2, Episode 1 of CBC's Canada's Smartest Person, floats all over "Sons of the Boulevard". No fewer than three shining gems of the Dirty South—Rap-A-Lot Records OG Big Mike (of The Geto Boys and The Convicts), and Dungeon Family stalwarts Big Rube and Witchdoctor—show up to work their magic. Rhino's new supergroup, Champions of Everything, with Donny Yonder and Ultra Magnus, debuts their first single, "How Ya Like That". There's even an exceptionally strong appearance from Rhino's oldest and closest friend in the rap game, More Or Les, who shines on the ridiculous "Basically Jesus".
But at the end of the day, this is still Rhino's show, whether he's "blue suit pimpin'" at the outset, trying on a dizzzying array of new and complex flows, penning another achingly beautiful breakup song in "Every Atom", cracking hip-hop's first-ever Steve Reich joke on "The One You Need", or going all the way left, with a choir in tow, on the gorgeous Otis Redding-flavoured interfaith gospel song "Wonderful Thing". The Mighty Rhino and Hand'Solo Records are so very proud to present We Will No Longer Retreat Into Darkness, a delicious and delightful work of hip-hop art. #Rhinosalute!
Share