Not even five full days since my second album dropped and my mind is still swirling. It feels surreal to have finally made it here – almost seven full years since the last album dropped. And then, suddenly, out of nowhere, like a bullet, came the first review the album has received.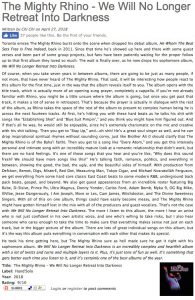 9 outta 10, y'all!
"One of the best albums of the year!"
An' *this* person believes that this album gets absolutely right exactly what I was afraid it got very wrong – Chi Chi believes that We Will No Longer Retreat Into Darkness hangs together beautifully *as an album*, on which every song is in dialogue with the others, and not just a collection of killer singles. (Though it's also obviously that!) I'm still disappointed that this album has too few emotionally potent songs on it – I have at least four written and ready to be recorded that I just couldn't find the right beats for in time, plus several more in lesser stages of development – but I read this review around 2 AM last night and my heart has been glowing ever since. Someone *gets* it! *YES!* An' I caint *wait* to throw down a stellar performance for y'all on Friday! Unh!
http://scratchedvinyl.com/?q=node/3697
Share